About Pride Polishing
Established in 1961, Pride Polishing, Inc. has a 60-year-long track record of providing expert metal finishing and polishing for metal distributors, metal fabricators, architects, and designers. Pride in quality, reliability, and customer service means our customers receive industry-leading metal finishing and unmatched service standards.
Read More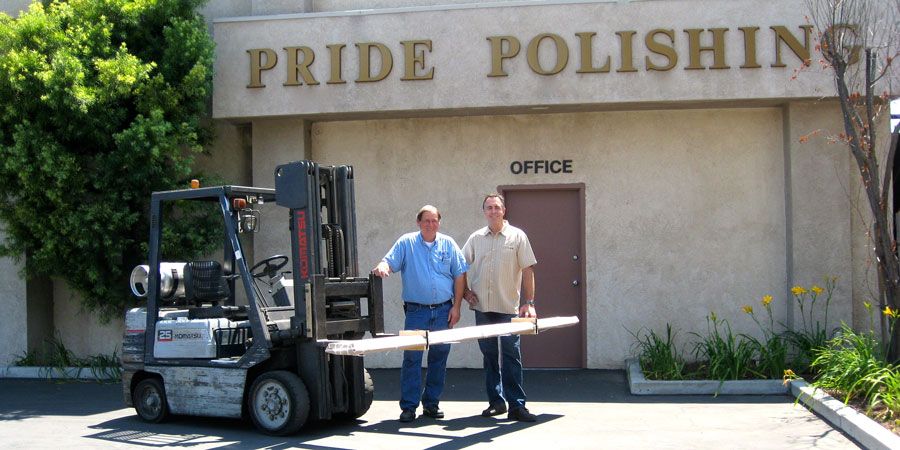 Metals
Our customers call on us to finish a wide variety of metals, including Stainless Steel, Muntz Metal / Naval Brass, Architectural Bronze, Commercial Bronze, Brass, Copper, and Aluminum.
Finishes
All metal finishing is done in-house by skilled craftsmen within our facility to ensure maximum quality and reliability.
Gallery
We provide expert metal finishing for a wide range of industries and use cases, including Architectural and Industrial projects, casinos, storefronts, elevators, and more.
"He and his company have been a great asset to our continued success as a metal distributor that supply value added services such as custom polished materials to our customer base. Rod and his team have always provided first rate customer service and quality finished product. Even under tough circumstances they are regularly able to beat their lead times for rush jobs and put their customers needs above their own. I couldn't be more happy or lucky to have a friend like Rod and Pride Polishing as a business partner."

General
"We go to Pride Polishing because they are easy to work with, efficient and very friendly, and Rod's knowledge of everything polished is second to none. They do high-quality work, they are dependable, and they offer fair and competitive pricing.
I have worked with Rod for a long time and it is always a pleasure working with him."

Casinos
LEED Information
LEED means Leadership in Energy and Environmental Design. It is a rating system, a certification for "green" buildings, developed by the Green Building Environmental Council of the United States (USGBC) and provides certain environmental standards for construction.