Pride Polishing is the leading metal polishing and finishing service for customers throughout California and the West Coast. Established in 1961, Pride Polishing has over 60 years of experience providing metal distributors, metal fabricators, architects, and designers with commercial and custom-residential metal finishing and polishing services.
With decades of industry experience, we provide a wide array of metal finishes on a variety of metals and products. All of our polishing and finishing is completed in-house, so whether your project is big or small, it will always be in the hands of our experienced and capable personnel.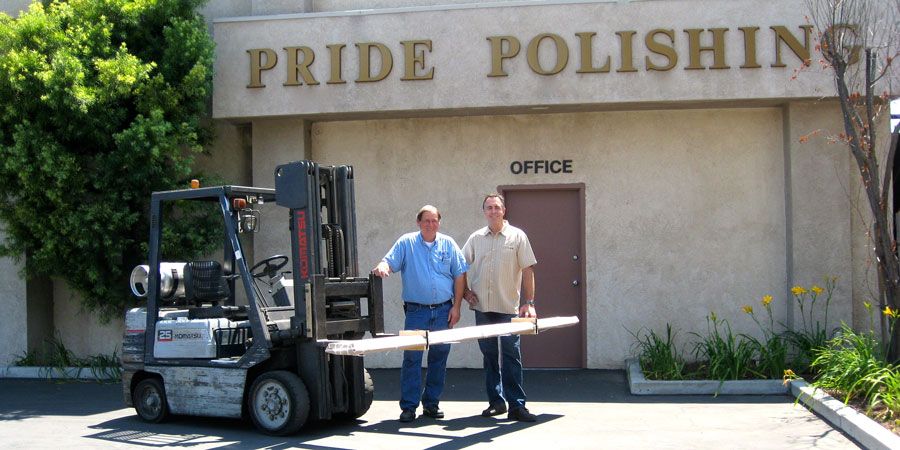 Our Values
Since 1961, Pride Polishing has remained committed to three core values:

Pride in Quality is our commitment to meeting or exceeding the finish specification of every part we process. Our talented production team completes a three-stage inspection on every job including incoming raw material, first article and final QC. This commitment to quality reduces touchup time and cost for metal fabricators and contractors.
Pride in Reliability means we get the job done on time. Our job quote is our word and we stand behind it.
Pride in Customer Service means we are your partners in exceeding end-customer expectations. Our experienced full-time office staff can provide advice on any aspect of our architectural-grade metal finishing and polishing service offerings. We provide same-day quotes including a clear job description and delivery date. We help get the job going and keep it going with partial shipments as needed. Expedited delivery can also be quoted on most jobs.